TIVo
Mini
<![if !vml]>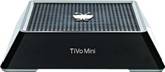 <![endif]>
I ordered a TiVo Mini off of Amazon for $137.00. ($12 cheaper than off the TiVo site.) The mini connects via Ethernet (RJ-45, not WiFi) to my Bolt. It presents a full user interface just like the Bolt's. It shows the content of the Bolt, and it uses one of my Bolt's tuners to show live TV or any other content from the Bolt. I put the Mini into the back bedroom and connected the HDMI output to a small TV. It sits next to my Roku 4 and is the main device in that bedroom for TV. I've pulled out the Time Warner digital tuner and will return it to TWC shortly.
The good:
<![if !supportLists]>1. <![endif]>The Mini's RF remote controls the Mini like an RF remote.
<![if !supportLists]>2. <![endif]>The Mini also takes IR inputs from my old TiVo remote, and the new Mini RF remote outputs IR to control the Samsung TV I'm using with it.
<![if !supportLists]>3. <![endif]>The Mini outputs pretty much all the needed formats, 480i through 1080p, and all the steps.
<![if !supportLists]>4. <![endif]>The UI is nearly identical to the Bolt so I don't have to learn another new one. There are slight differences reflecting that the Mini doesn't have tuners, etc.
<![if !supportLists]>5. <![endif]>No TiVo service fee
<![if !supportLists]>6. <![endif]>The mini supports analog outputs (but you have to buy the cables, shown below)
The bad so far:
<![if !supportLists]>1. <![endif]>Since I ordered it from Amazon it took a full 24 hours for TiVo to "activate" it. Until then it was useless.
<![if !supportLists]>2. <![endif]>When I played an Amazon video it only went out the HDMI connector. The Mini turned off the analog outputs. So at least for that one movie, I can't stream Amazon movies out through the Slingbox.
I've hooked that Mini's component output to my Slingbox. The Sling's IR remote sets atop the Mini and it provides me a full "out of the home" access to my in-home TV experience (just like I had with the TiVo HD).